There is no shortage of blonde hair care products in the market. However, finding good ones that truly deliver results has been a case of trial-and-error for many blondes out there. In case you haven't got your hand on the Evo Fabuloso Platinum Blonde range yet, you're in for a great surprise. The Evo Fabuloso Platinum Blonde range is exactly what you need… and more.
If you are blonde, you might have your bouts with dull, brassy, and dry hair problems. You tried a few products but none of them delivered. Your hair might look fresh for a while but then it all goes back to the same old dry, brassy strands that need rescuing!
Lucky you, evo hair has come up with what many dubbed the best range for blondes! The evo fabuloso platinum blonde range is a fan favourite among our customers. Once you've tried it, you will see why.
Discover the Evo Fabuloso Platinum Blonde Range
Every product in the range is developed with blondes in mind. It also addresses specific issues that blondes deal with on a regular basis. Whether it is unwanted brassy tones or dryness, you will find a treatment and maintenance product for your hair to revive your strands and keep your blonde looking vibrant.
This range is popular because it gives your hair that 'fresh from the salon' vibe and richness to it. There is no sight more depressing than seeing your blonde turn into a yellowish tone, or when it suffers from fading.
Say hello to a soft, vibrant blonde that makes you love being blonde again!
Evo Fabuloso Platinum Blonde Toning Shampoo
Dubbed by haircare experts and professionals as the best shampoo for blondes, there is no better choice than this for your daily regime if you want to keep those blondes looking fresh. It boasts of a no-nasties approach to colour care.
It works by gently cleansing your hair while neutralising any unwanted yellow tones. As a result, you have blonde hair strands that look revived and cleansed. It is also perfect for extending the life of your colour-treated blonde, or even for bleached hair.
The list of ingredients used in the platinum blonde toning shampoo includes natural ingredients that do not cause damage to your delicate blondes. One of the key ingredients is hydrolyzed quinoa, which is a type of complete protein that boosts shine and colour retention. It is also formulated with panthenol, a humectant, that keeps your hair moisturised. The nourishing ingredients in this blonde toning shampoo guarantees that you have your best-looking blonde, always.
This product is available in mini (30 ml) and 250 ml sizes.
Evo Fabuloso Platinum Blonde Colour Boosting Treatment
If you want to give your blonde hair an extra boost, you must add the colour boosting treatment to your blonde hair care routine. In fact, it is best paired with the toning shampoo for optimum results.
Add this as a conditioner step to your hair care routine. It intensifies the toning results from your shampoo, getting rid of the yellow tones for a cool blonde finish. It also gives additional nourishment to your strands while fighting frizz and increasing shine.
This product is available in mini (30 ml) and 220 ml sizes.
Evo Fabuloso Detangling Comb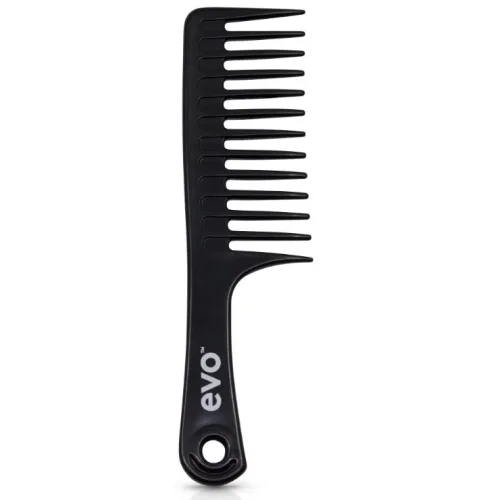 You need this detangling comb to apply the colour boosting treatment to your strands. The large tooth of the comb is gentle on your hair while also allowing you to massage the treatment formula to the strands for better absorption. You'll definitely want to add this to your blonde hair care routine using the Evo Fabuloso Platinum Blonde range.
Are you ready to try the Evo Fabuloso Platinum Blonde range?
If you're blonde and you want to keep your strands looking healthy, then your answer is yes. The platinum blonde toning shampoo is a globally loved product, and you can incorporate other products from the range to boost the results.
Give it a shot – you know you want to.