At My Hair Care & Beauty, we take pride in the brands that we partner with and Kemon is among that list. The brand is a story of commitment. This commitment is geared towards not just innovation; instead, it upholds the brand's identity as a visionary in order to make hair fashion a lifestyle. This brand ethos is best exemplified in the Kemon Actyva range – one of many haircare range that they have to offer.
About Kemon Actyva
Kemon was founded on the mission to spread the culture of beauty. It aims to break away from the stereotype and focus on uniqueness – one that is driven by sustainability and visionary beauty. With the arrival of the Kemon Actyva range, they envision a new cultural transformation in the cosmetic industry. In order to understand how that is put into action, it is important to learn about the Actyva range.
The Kemon Actyva range showcases the blend of science and nature. There is a fine line separating these two, which are vital components of what makes the range unique. With the saturation of hair care and beauty products in the market, consumers are becoming wiser about choosing which product is right for them. As such, the Actyva range has simplified their approach and focused more on the results that the products bring.
The Actyva range was developed in Umbria in Italy's Upper Tiber Valley. This exclusive hair care line was initially developed for hairdressers so you can expect professional-grade formulations. For this reason, the hair care line is produced to the highest standard of quality. It was essential for the Kemon Actyva range to use this as their unique selling point because – as mentioned above – the market is becoming saturated and they needed to compete.
The Actyva range was developed in 1978 in the brand's commitment to establish the perfect synergy between natural ingredients and the technologically advanced processing of these materials.
How Does the Range Blend Science and Nature?
Kemon Actyva strengthens its position in the cosmetic industry as a professional hair care line that delivers products that give results. At the same time, it has earned certifications for its commitment at strengthening sustainable hair care formulations that safeguard nature and its resources. This is proof of the brand's commitment to preserving the environment and the quality of its products.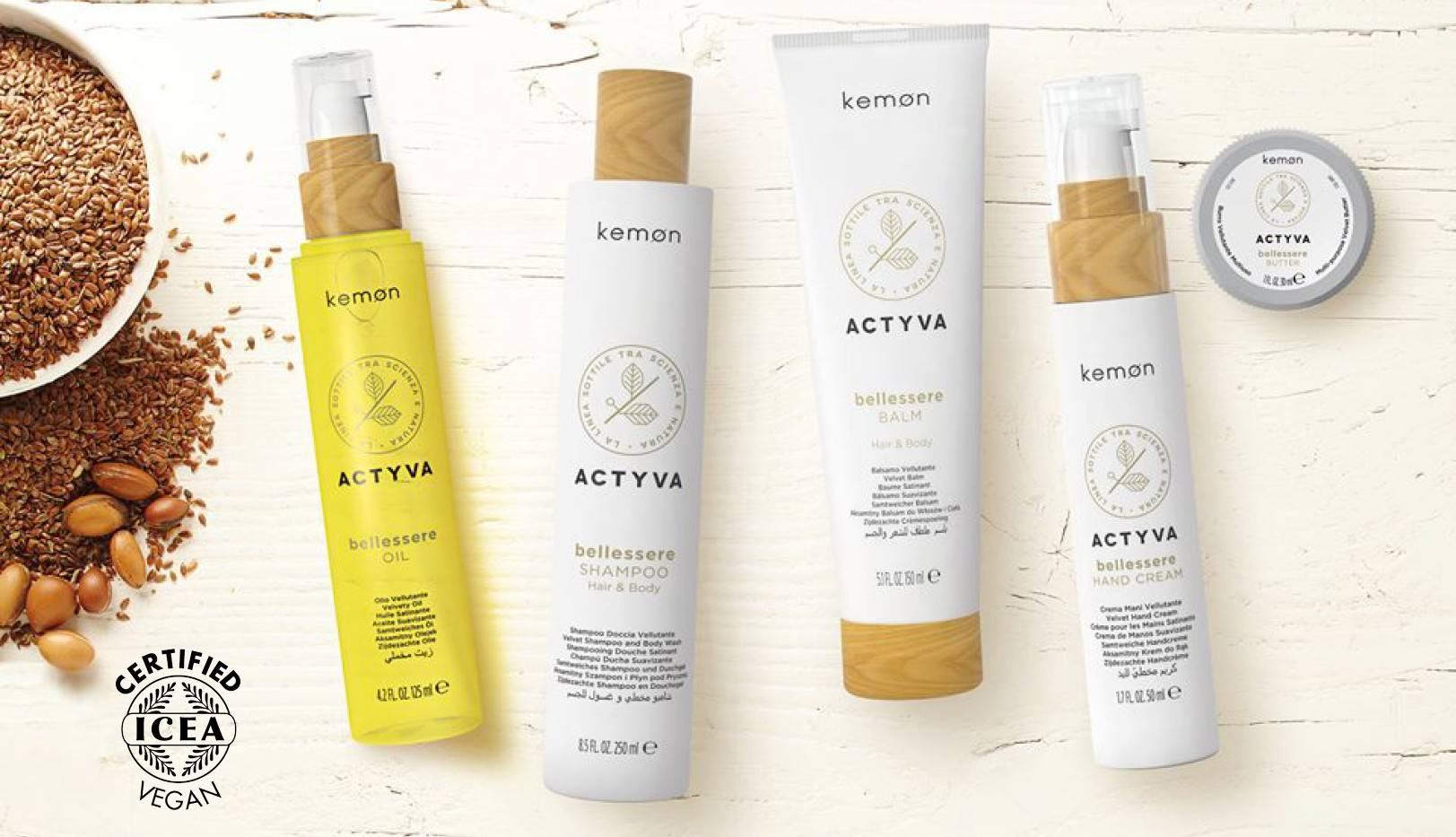 The following are the certifications that the brand's range has been certified with:
Love Nature – This is a specific guideline that Kemon has established upon itself towards the protection of the environment and its consumers. They only use a list of ingredients that are considered safe in the cosmetics industry. In doing so, they have eliminated ingredients that are hazardous to the environment and the health of those who use it.
ICEA Vegan – This is another certification that Kemon Actyva range has earned. This is to ensure that from the ingredients used to the production, no raw material or animal products with GMO origin are used.
Green PE – This certification guarantees that All packaging materials – from the bottles to tubes – are made with recyclable materials. Thus, all products from the Actyva range have minimal environmental impact.
You can learn more about the brand's green initiatives here.
Meet the Kemon Actyva Range
The Kemon Actyva range consists of a few other hair care lines that target specific hair types and issues.
This range is designed to treat common scalp issues such as dandruff. Because beautiful hair beings with a healthy scalp.
This range is designed to enrich and preserve the natural beauty of your hair and skin.
This range is designed to treat and care for sensitive scalp.
This range is recommended to preserve and protect the intensity of hair colour.
This range is meant to control and tame hair that is frizzy and unruly.
This range is designed to enrich your hair from root to tip and to remove excess sebum from the scalp.
This range is created to restore hair that has been damaged and weak.
This range is designed to restore the nutritional balance of dry hair.
This range aims to counteract the harmful effects of free radicals on your hair in order to combat hair loss.
This range is designed to give body and volume to fine, delicate hair.
Have you heard about Kemon before? If not, visit here to learn more about the brand and its ethos. Or you can follow us on Instagram to get to know more about the brand.