What is your definition of a good hair day? If it's frizz-free that is shiny and healthy-looking, then you're in for a treat. Olaplex No.9 Bond Protector Nourishing Hair Serum is the latest addition to the brand's impressive product portfolio that has everyone buzzing – including us! Is this product worth parting with your hard-earned money for?
The Deal with Damaged Hair
Does your hair struggle with style retention? Do you see strands of hair on the floor every after shower (or on your brush)? Or is tangled hair a constant battle you can't seem to win? These are all signs of damaged hair. *Sigh
Damage to your hair can come from many factors. It could be from exposure to harsh elements like humidity and air pollution (especially if you live in big cities). It can even come from the very same products you think are supposed to care for your hair (hint: silicone-based shampoos and conditioners!).
This is why nourishing your hair and protecting it from damage should be a constant effort. Several factors can contribute to damage without you even realizing it. And it's also a good time to remind you to choose your hair care products carefully. Make sure these products are really doing their job of nourishing your strands, and not adding to the damage.
This is why it's important to add serums to your hair care routine. These little hard workers are applied to your hair after a shower or on the go to give it an extra dose of nourishment or hydration, depending on the specific formula for the serum you are using. If you have yet to use serum, Olaplex No.9 was just recently launched and it might just be what your hair needs!
Meet the No.9 Bond Protector Nourishing Hair Serum from Olaplex
Olaplex is a globally loved brand for both professional hairdressers and consumers alike. This brand has consistently delivered salon-quality results, making professional hair care achievable at home. There is no shortage of groundbreaking products from Olaplex and No.9 serum is backed by the same technology you've relied on – if you're an Olaplex user.
According to Olaplex, No.9 Bond Protector Nourishing Hair Serum is a silicone-free and weightless serum that protects your hair from environmental damage and enhances your hair routine. It works for all hair types and textures. It is designed to be a leave-in serum that shields your strands from common causes of damage such as air pollution, heat styling, and so much more. The serum can offer up to 48 hours of protection and can withstand up to 232 degrees Celsius of heat.
The formula for Olaplex No.9 Bond Protector Nourishing Hair Serum is free of silicones, formaldehyde, and DEAs. Therefore, you won't have to worry about your strands being damaged by harsh chemicals. It also does an effective job of keeping free radicals from air pollutants away from your strands. This serum is packed with antioxidants, such as the Red Algae Extract, that keep away free radicals that contribute to hair damage.
Moreover, the formula is made with the use of the legendary Olaplex Bond Building Technology. You can be confident that it has the same level of quality as the Olaplex products that came before it.
The Secret Ingredient
Red Algae Extract is the secret ingredient that powers the formula for this new Olaplex serum. This ingredient is antioxidant-rich and clings onto wet hair to act as an invisible shield. It works by blocking pollutants in the air that could cause damage to your hair strands.
With this shield on, harmful free radicals cannot affect your hair and cause damage. At the same time, this ingredient injects powerful antioxidants into the cuticle to eliminate free radicals before they cause damage.
Pollutants from the environment promote free radicals that destroy essential proteins and bonds in your hair. When this happens, you will see visible signs of damage such as split ends, hair breakage, and tangles. It also makes the hair difficult to style.
What Results Can You Expect from Olaplex No.9 Bond Protector Nourishing Hair Serum?
Now, here's the exciting part. Olaplex promises to bring a ton of hair benefits when you incorporate this serum into your daily hair care regimen.
According to Olaplex, the main vision for creating this hair serum is to shield it against environmental damage. While it contains the same patented ingredients that can protect and reverse damage due to chemicals and heat styling, that is the main purpose of creating this new product.
In addition, it also reverses the signs of damage to your strands due to pollutants. It works to protect and cure damage.
Regular use of this hair serum can also bring about other hair benefits such as incredible softness and bounce, satin shine finish, anti-tangle, and anti-static results. This makes it easier to style your hair and to keep it looking healthy for longer.
Highlights of the New Olaplex Serum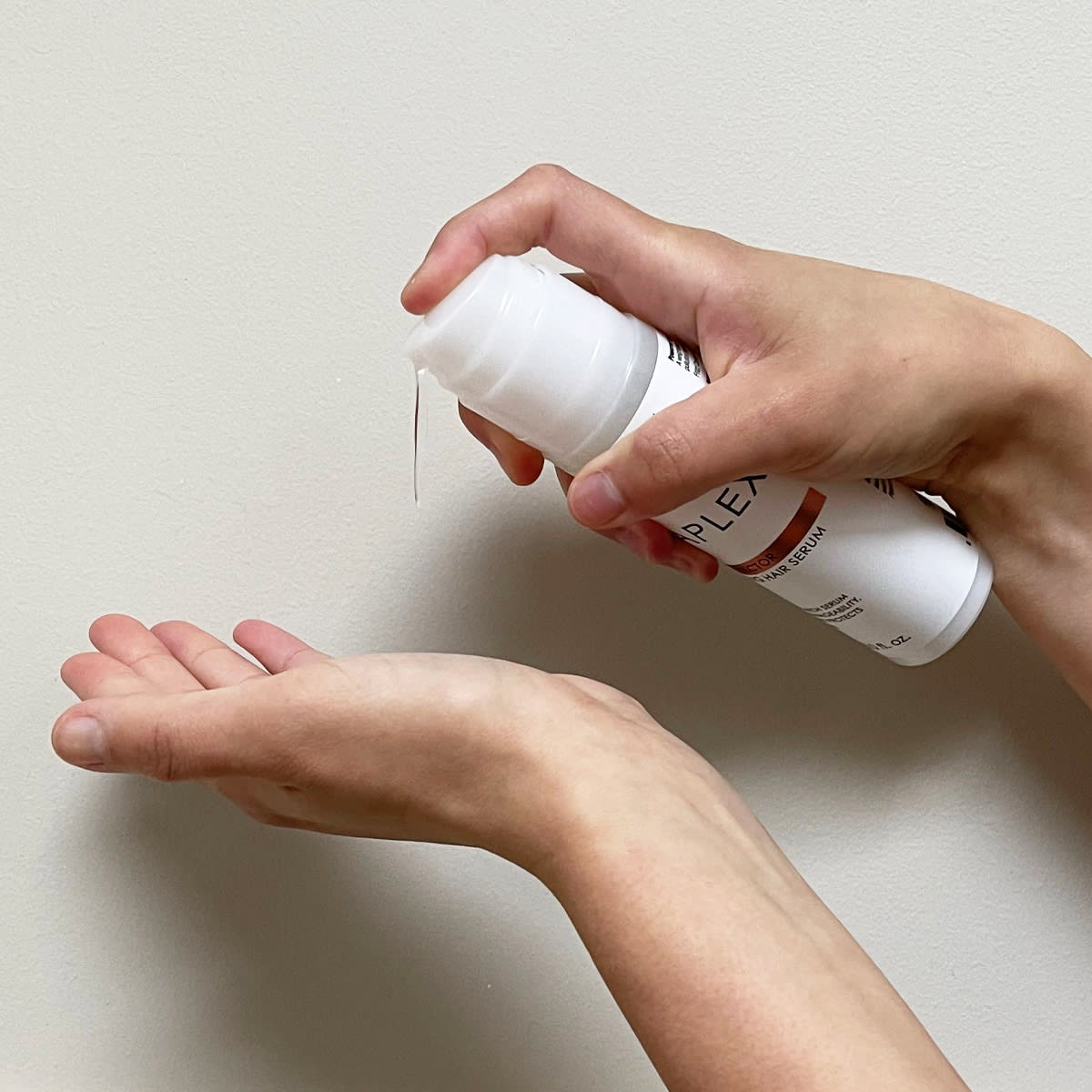 To refresh your memory, here are some of the reasons you should be excited about Olaplex's new launch:
Filled with antioxidants
Suited for all hair types
Cruelty-free
Paraben-free
Silicone-free
Sulfate-free
Phosphate-free
Vegan
Nut-free
Gluten-free
Up to 48 hours of damage shield
Using the No.9 Bond Protector Nourishing Hair Serum
It's easy to incorporate Olaplex No.9 Bond Protector Nourishing Hair Serum to your daily hair care routine.
Step 1: Apply a small amount from the ends to the roots while the hair is damp. Leave your hair to air-dry for a soft finish. You can also use a hair dryer with a diffuser to keep it silky.
Step 2: Apply on dry hair to tame frizz and achieve shine.
Step 3: Use the serum on the days you wash your hair or in-between.
The Olaplex No.9 Bond Protector Nourishing Hair Serum is available on our website. You can also shop other Olaplex's coveted product range to build a potent hair care routine.