Which brush is right for your hair type? Why so many? Choosing a hair brush to style your hair seems like a straightforward choice but it hardly ever is. In fact, there are so many types of hair brushes in the market that it can get a little overwhelming. There are certain types of hair brush that are better suited for a particular hair type while others work better for another. You also have many factors to consider when making the right choice in order to create the desired style.
In this guide, you will be able to get a closer look into the different types of hair brushes in the market and how to pinpoint the right one for your hair styling needs. When you find the right brush, it can make styling easier and more precise, while also achieving the look you want.
Types of Hair Brush
To solve the hair brush mystery, we will take you through each type of hair brush in the market and how to use them for maximum styling results and performance.
Detangling Brush
A detangling brush is what you need to smooth out wet (or dry) hair to reduce breakage. It is a unique type of brush with a specific purpose – to be used on wet hair so you don't snag at your strands while you are brushing it. However, never ever use this type of brush for blow drying because the heat can melt the bristles.
Paddle Brush
A paddle brush is characterized by its wide shape and is ideally used on unruly hair. This is another one of those hair brushes that stylists recommend as a must-have in your styling arsenal! It is great for taming your strands while also ideal for blow-drying. It sections your hair quickly for quicker drying, too, as you can run it from root to end.
Round Brush
If you have long hair, this brush is a must-have! It is a great tool to use when you want to straighten your hair and make your strands look sleek. You can find a wide range of bristle types but for best quality results, choose the boar bristle ones. Whether you want to achieve a sleek look or a voluminous blowout, this brush can get the job done.
To maximise the volume when styling, brush your hair in the opposite direction so it will lift your strands from the root. If you have long hair, choose a round brush that has longer bristles.
Straightening Brush
There are many types of straightening brushes in the market and technology has evolved over the years. A good example is the use of a heated straightening brush, such as the ghd glide. This is the ideal brush to use when using a flat iron on your hair because it enables you to get perfectly smooth hair easily!
It is also a great tool to use to sort out those kinks from your baby hair!
Smoothing Brush
Another excellent brush for styling! This tool is recommended if you have unruly locks. Whether you want to smooth out any bumps on your hair or to pull back a tight ponytail, this is the tool for you.
Tail Comb
A rat tail comb, simply known as tail comb, is another invaluable tool that you need for hair styling. A fine hairstyling tool such as this is needed to make complicated hairstyles. It enables you to create various sections on your hair with extreme precision.
Among the many uses of a tail comb are for parting the hair, teasing the strands for more volume, and for hair colouring (to ensure that every strands get a piece of the colour pigment).
Best Brushes for Blowouts
A perfect salon blowout is a dream for a lot of women. Unfortunately, though, it is not a budget-friendly or time-sensitive option to visit your favourite salon every time you want to achieve a gorgeous blowout. Instead, finding the best brush is the secret to salon-level blowout at home.
When it comes to achieving a perfect blow dry, round brushes are one of the best options available. It helps to lif your strands to give it volume while also adding shine.
For a good blowout, a boar bristle brush would make a fantastic option. This is why you need to closely consider the type of bristles used on a brush. When choosing blowout brushes, make sure you choose ones with bristles that are heat-resistant as they will most likely be exposed to high temperatures when blow drying. A boar bristle brush is noted for its ability to add shine to your strands by evenly distributing oils. It also gives you more tension making it suitable for unruly hair. If you want a polished look, a boar bristle brush is recommended.
Another option for the best blowout results with a round brush are the ones made with nylon bristles. ghd is one brand that provides the best nylon bristle brushes in the market. It makes styling easy as the bristles retain heat making your blowouts easier and faster to achieve. It is a great tool for professional blowout results at home.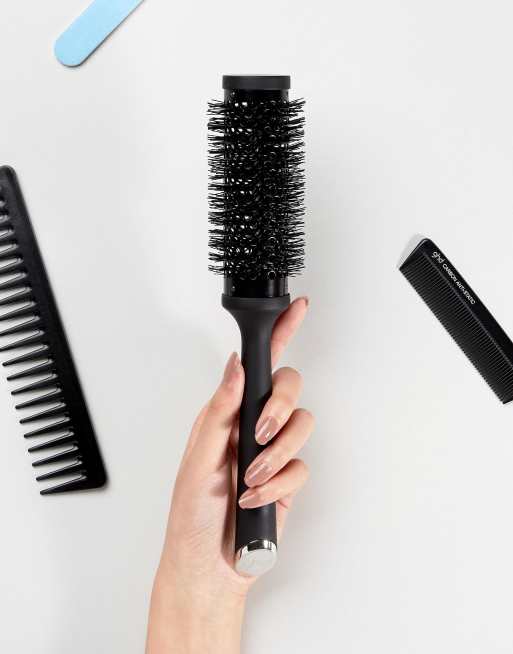 Finally, the size of the barrel should also be taken into account. An extra large barrel brush will help to maximise volume at the roots. However, extra large barrels are only suited for longer hair. Otherwise, the bristles won't have enough hair to hold onto when styling.
Another option is a vented brush. This type of brush made it big in the 90's but many new innovations and technology have elevated their performance. The core component for this type of brush is that when it is used together with a blow dryer, the vents enable air to flow through the brush and onto the hair. This results in faster drying time and also more volume.
If you have fine hair, a thermal brush is what you need. This is one of those hair brushes that infuse a little more body to fine hair. In addition, it is capable of retaining more heat so it is recommended for curling.
If you want to achieve professional, salon-quality blowouts at home, a ceramic radial brush is worth the splurge. A good example is the ghd professional radial brush. It comes with a versatile size so you can create a smooth blow dry look or a full-bodied style. It can reduce your styling time in half and is also ideal for short to medium-length hair.
Which of these hair brushes do you have in your styling arsenal? Are you currently using the right hair brush for your hair type or needs? Share your thoughts below and let us know any other tips you want to share when it comes to choosing the right hair brush.
For more hair styling and haircare tips, follow our blog or visit us on Facebook!